ClickerExpo 2020: The Foundation Curriculum
---
If you are new to dog or animal clicker training (even if you are very experienced in other dog-related areas), we have created a crackerjack Foundation Curriculum just for you. The Foundation Curriculum maps out recommended dog and animal clicker training courses for all three days of ClickerExpo, with a productive mix of Learning Labs and Sessions. Note that courses get increasingly advanced as you progress!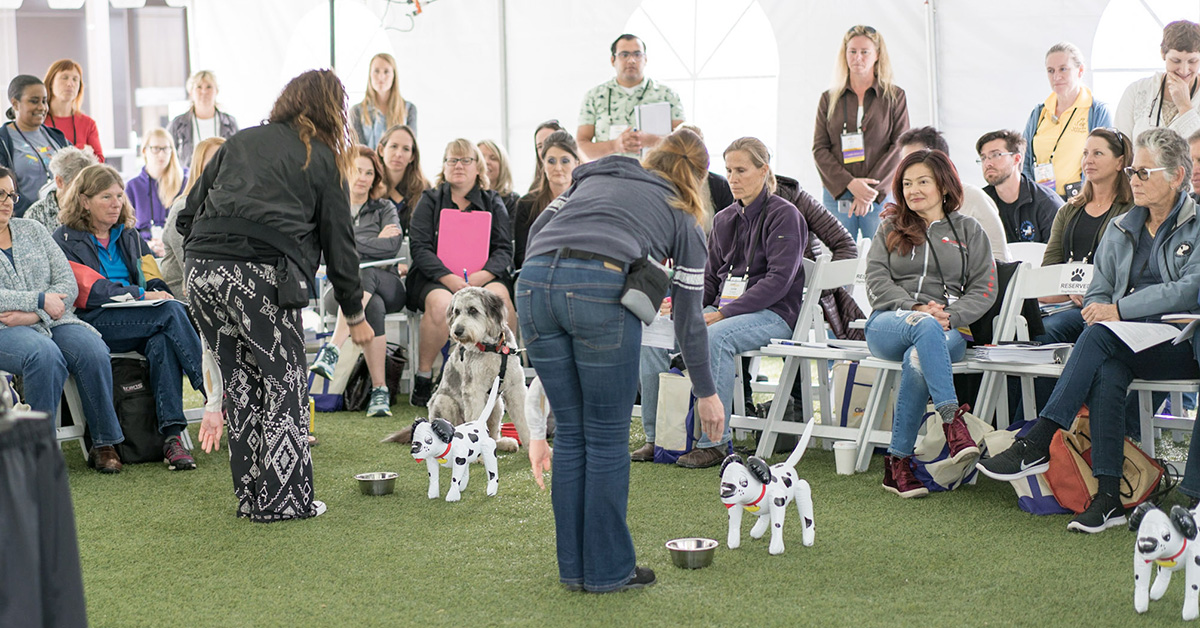 INSERT QUOTE HERE IF WE HAVE ONE WE WANT TO USE

There are so many opportunities to learn at ClickerExpo—even beyond the scheduled Sessions and Learning Labs. Book your spot at the Networking Roundtable Lunches, where you will have the opportunity to dive into topics of mutual interest with speakers and fellow attendees! For more on lunch and other mealtime activities, click here.
Building Behavior: Shape the Future is our top pick for this time slot, as training by shaping behavior is one of the most important concepts. (Bonus: this course prepares you for the follow-up Learning Lab as well). 
If you are already comfortable with shaping, two alternatives are: Blazing Clickers—a deep look at the science behind the use and misuse of the marker; Training in Loops—multiple perspectives on the important topic of the behavior cycle.
Practice hands on or watch others practice shaping by following up your attendance at the 2:00 pm Session with this shaping Lab. As with all Labs, you must pre-register for your spot.  
If you want or need an alternative, head to The Smallest Success Point, featuring examples of using the marker to teach and train through  "capturing"—another important (and underutilized) technique in the clicker trainer's skill set.
For beginners looking to map out an education path, we recommend the following course, however there are other great choices during this time! Check out the Seattle and Louisville programs for details.
 Another critical component of clicker training is cueing, which makes What a Cue Can Do our top pick for this time slot.
If you are fluent in cueing and want an inside look at how top trainers develop plans in real-time, check out the Lab Backstage Pass. As with all Labs, you must pre-register for your spot.
Conditioning non-food reinforcers effectively is a must-have skill, which makes the Love It! Lab our top pick during this time slot. 
Second choice is the Lab Breaker of Chains (Louisville Only), which will focus on how to teach sequential behaviors linked by cues. As with all Labs, you must pre-register for your spot.
Training is deceptively hard, but a huge part of effective training is fluency with basic operational skills. This makes the You Are Not Uncoordinated! Lab our top pick for this time slot. As with all Labs, you must pre-register for your spot.
An alternative for those working with non-canine species is the panel discussion Let's Talk Other Species, which is geared for all experience and skill levels.
It's Sunday! You are ready for material that will show more sophisticated applications of clicker training. Both of these Labs will provide an opportunity to see clicker training creating transformative solutions for common issues and challenges. As with all Labs, you must pre-register for your spot.
With your foundation knowledge of shaping established, take it to the next level by learning how the strategic placement of the reinforcer can clarify communication and speed your animal's learning (plus, Michele's slow-mo videos are amazing).
With the exposure you have already had to cueing, the team taught Session on boosting the signal strength of your cues is also a top choice.
And, if either of the important focused Lab topics of Muzzle Tov or Non-Auditory Communication (Louisville only) appeal to you, go for it! You are ready! As with all Labs, you must pre-register for your spot.
Your foundational journey at ClickerExpo is over! Now the world is your oyster. Choose from any of the courses that interest you in Seattle.
If you're attending ClickerExpo Louisville, we've got one last pick that is a can't miss!
NIGHTTIME AND MEALTIME ACTIVITIES
---
Thursday Night Welcome Reception
ClickerExpo kicks off on Thursday evening with a complimentary Welcome Reception.  Join us for light bites, a cash bar and networking as you check in at registration and settle in for an exciting weekend. Plus, check out the latest and greatest at the ClickerExpo Store!
Lunchtime networking roundtable discussions
At our networking roundtable lunches, you'll have the opportunity to dive into more detail on topics of mutual interest with speakers and fellow attendees. (pre-registration required)
Friday Night Social Event
Come, kick back, and relax with a networking game, music, socializing, food, a cash bar, plus the chance to win prizes. Join us for this fun night to start the weekend off right! (pre-registration required)
Head to the ClickerExpo Store for a book and media signing with your favorite faculty and speakers.  Whether you pick up a new book, DVD, or tee, or you bring your favorite with you, you'll get the chance to meet renowned authors and experts one-on-one while enjoying a lite bite and cash bar.
Saturday Night Conference Dinner
Join us for seated dinner and inspiring session by Dr. Christopher Pachel "Working Together: Creating Successful Relationships Among Animal Care Professionals." This presentation will focus on identifying communication strategies that can be used to establish professional and complementary relationships with other animal care providers, and on identifying ways of sharing information that meets the needs of everyone involved. (pre-registration required)