Catch the Early-Bird Savings!
Two distinct conferences, completely unique programs, unlimited joy in learning
Catch the Early-Bird Savings Beginning August 17!
Early-Bird registration will open on Thursday, August 17, at 12:00 pm (ET)/9:00 am (PT).
Limited spots will be available on a first-come, first-served basis.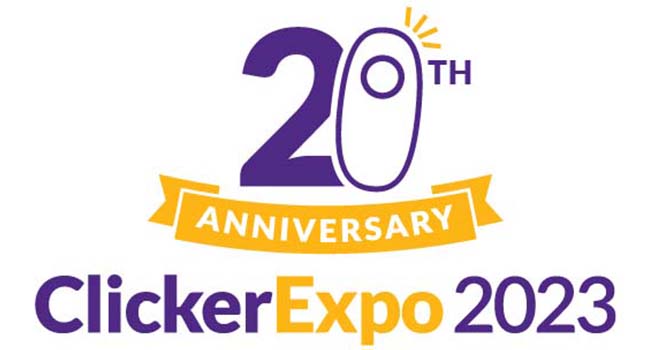 Join Us for ClickerExpo 2023 - Virtual and In-Person
Registration is open! Join us as we celebrate 20 years of "Wow!" with two separate conference experiences featuring distinct content and formats! Register early for ClickerExpo Washington, DC, and get complimentary access to ClickerExpo LIVE!
Registration closes on March 2, at 11:59 pm (ET).
Registration closes on March 2, at 11:59 pm (ET).
Special Offer! Register for ClickerExpo Portland now and you get ClickerExpo LIVE for 50% off.
ClickerExpo DC + ClickerExpo LIVE is an unbeatable combination of innovative, world-class, in-person conference and virtual learning re-imagined. Join us for one or both!
Enjoy two separate conference experiences with completely different programs; join us for one or both! 
You'll learn more in three days than you ever thought possible!
Learn more than you ever thought possible!
---
ClickerExpo conferences excel at helping animal training enthusiasts and professionals improve their skills, evaluate the latest techniques, connect with each other, and learn from a huge faculty of world-renowned speakers, teachers and trainers in positive reinforcement.
---
Celebrate being together in person with a reimagined ClickerExpo that brings the conference experience to entirely new levels of interaction, inspiration, and excitement.
Join Grisha Stewart at ClickerExpo Portland
Did you know that secure attachment could be considered an antecedent for dog behavior? Join Grisha Stewart at ClickerExpo Portland, OR for, The Power of Love, where she will explore attachment theory as it relates to dogs (and touch on humans as well), providing practical techniques for applying this knowledge to reactivity and separation anxiety. ...
September 15, 2023
Behavior Clinic: Troubleshooting and Real-Time Coaching
Join Chirag Patel at ClickerExpo Portland for his Learning Lab, Behavior Clinic, where he will address whatever challenges are presented, ranging from common puppy behaviors to loose lead walking, separation-related behaviors, and everything in between. ...
September 2, 2023
If you're bringing your dog to ClickerExpo for the first time (or even the fifth!), make sure to review this important information. Please watch this video about dog safety at ClickerExpo!...
August 7, 2018
---
Be among the first to know about all things ClickerExpo by subscribing to our Events newsletter.