THE LATEST FROM CLICKEREXPO
Videos
---
Get a taste of what you'll learn!
Fitness is important for your dog's health, and doing fitness exercises with your dog is fun and enriching for both of you! Join Lori Stevens at ClickerExpo Portland or...
Teaching dogs to back up in conjunction with or independently from a handler is a vital skill for competition! Watch this incredible musical routine by three-time...
When you see a team, like Hannah Branigan and Rugby, moving together in sync, heeling looks almost like a dance. Flashy, top-scoring heeling requires fluent understanding of...
Emma Parsons demonstrates a great foundation behavior, the "Back Up" Sit.  When trained properly, backing up becomes the cue to turn and sit front. If a reactive dog begins to...
Here's a sneak peek from one of Leslie McDevitt's new ClickerExpo courses, Reactive to Relaxed: What's Next in Control Unleashed. Attendees will learn about new protocols and...
If you're bringing your dog to ClickerExpo for the first time (or even the fifth!), make sure to review this important information. Please watch this video about dog safety at...
The effective use of non-food reinforcers is a critical skill that all trainers will likely use or need at some point in their training career. In this video, Ken Ramirez uses...
High arousal. Overarousal. Low arousal. Lindsay Wood Brown unravels the science of arousal and explores training and behavior-change strategies to support trainers of...
See and hear first-hand what the world's most innovative animal training conference is really like! Then join us at ClickerExpo Portland or Washington DC....
Access to ClickerExpo - Anytime, Anywhere, on Any Device!
---
Won't make it to all the Sessions your want? Want to re-watch your favorites after the event? or get access to faculty expertise anytime from anywhere? Video On Demand is for you!
Attendees receive great savings on packages! Visit the Attendee Resource Center to learn more and make sure to add Video On Demand during registration.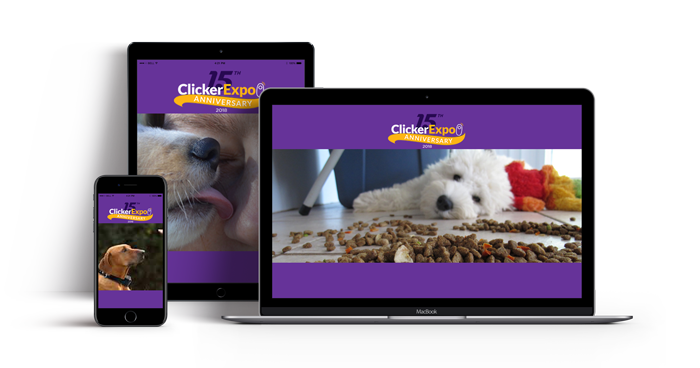 Didn't get enough of ClickerExpo 2018 or 2017? Check out all of our available streaming videos here.